Welcome to Emily's virtual rocket!
This is a news blog which specifically lets you know what is going on in the transgender world.
Also, if you wish, please donate to the "Donate" button on the right side.
Questions? Comments? Compliments? Complaints?
E-mail me at thoreaugreen@gmail.com
If you like this blog, tell your friends about emilysvirtualrocket.blogspot.com!
23 September 2017
Erin Bamer
Idaho Press
Nampa, Idaho
Credit: http://id-nampa.civicplus.com/ImageRepository/Document?documentID=5289
08 May 2017
Brooke Sopelsa
NBC
Whoopi Goldberg
Credit: http://vignette1.wikia.nocookie.net/onceuponatime8042/images/5/5d/InfoboxWG.jpg/revision/latest?cb=20131029212720
23 February 2017
Marie Solis
Mic
Laverne Cox
Credit: https://upload.wikimedia.org/wikipedia/commons/thumb/8/81/Laverne_Cox_by_Sachyn_Mital.jpg/170px-Laverne_Cox_by_Sachyn_Mital.jpg
Posted by

Emily Shorette
at 4:50 PM

Labels: against, Alabama, Donald Trump's, Laverne Cox, Marie Solis, Mic, Mobile, protections, rollback, speaks out, transgender students
27 January 2017
Press
CBS
Credit: https://s-media-cache-ak0.pinimg.com/564x/68/70/18/687018a2e8acad7692a7052b1e88f04c.jpg
ezs note: Maybe I'm being too harsh, Ms. Calgaro. I do believe that you love your child. But if your love is of a true kind, you must love your daughter, not a fantasy land.
Posted by

Emily Shorette
at 3:32 PM

01 December 2016
Ellen Wulfhorst
Reuters
Credit: https://www.cia.gov/library/publications/the-world-factbook/graphics/flags/large/sa-lgflag.gif
Posted by

Emily Shorette
at 2:24 PM

22 April 2015
Matt Donnelly
The Wrap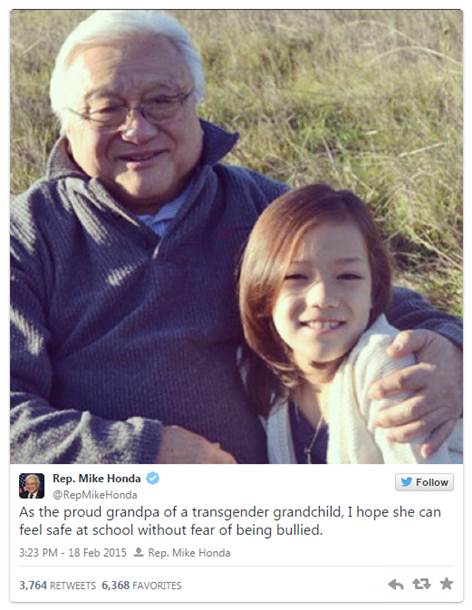 Credit:
http://sdgln.com/files/mike_honda-transgender_grandchild-32718.jpg
21 November 2013
http://sanfrancisco.cbslocal.com/
*more here*
ezs note: Thank you, Dan Gale!