Welcome to Emily's virtual rocket!
This is a news blog which specifically lets you know what is going on in the transgender world.
Also, if you wish, please donate to the "Donate" button on the right side.
Questions? Comments? Compliments? Complaints?
E-mail me at thoreaugreen@gmail.com
If you like this blog, tell your friends about emilysvirtualrocket.blogspot.com!
07 August 2018
Ben Schreckinger
Politico
Underhill, Vermont
Credit: https://upload.wikimedia.org/wikipedia/commons/d/dd/2017-09-11_10_27_43_View_east_along_the_Maple_Ridge_Trail_at_the_junction_with_the_Frost_Trail_on_the_western_slopes_of_Mount_Mansfield_within_Mount_Mansfield_State_Forest_in_Underhill%2C_Chittenden_County%2C_Vermont.jpg
10 July 2018
Charlotte Clymer
HRC
Brett Kavanaugh
Credit: https://upload.wikimedia.org/wikipedia/commons/a/ae/Judge_Brett_Kavanaugh.jpg
07 April 2017
Amanda Terkel
The Huffington Post
Sen. Mark Green
Credit: https://www.gannett-cdn.com/-mm-/5983aa91870230e91d8370959af4e55304a1971d/c=0-5-150-205&r=537&c=0-0-534-712/local/-/media/Clarksville/2015/01/22/B9315962918Z.1_20150122175658_000_GAR9OC1LV.1-0.jpg
ezs note: Please remember to urge your Senators to vote NO on the nomination of Mark Green's position as Secretary of the Army. You can find their phone numbers at
www.senate.gov.
Posted by

Emily Shorette
at 4:32 PM
No comments:

Labels: Amanda Terkel, army, Ashland City, being, believes, disease, Donald Trump's, expected, lead, pick, Tennessee, The Huffington Post, transgender
21 January 2017
Trudy Ring
The Advocate
Credit: http://3.bp.blogspot.com/-lNP7BR2nkEw/VZ9TNYLjyII/AAAAAAAAzvM/03t0othSI00/s1600/trump%2B1.jpg
Posted by

Emily Shorette
at 6:18 PM
No comments:

16 December 2016
Daniel J. Kurzner
The New York Times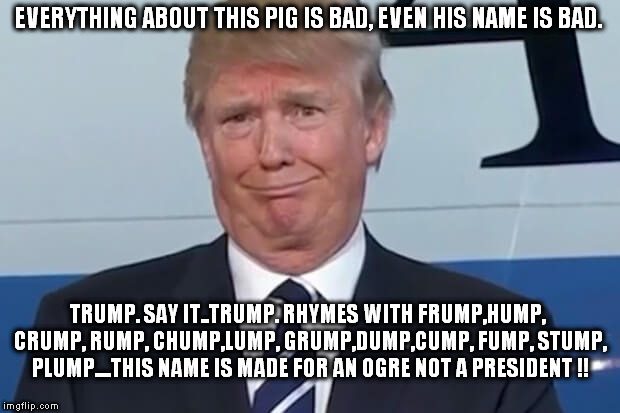 Credit: https://i.imgflip.com/1dn9sf.jpg
06 August 2012
1-
Elizabeth Esty
vs. Christopher Donovan(nom.) vs. Dan Roberti
2-
Chris Murphy (
nom.)vs. Susan Bysewicz
3-
Chris Shays
vs. Linda McMahon(nom.)
The first person I'd pick is the 5th Congressional seat. If the race were between the first two, and neither had any troubles, I might have a different outlook. But Chris Donovan has troubles - big troubles. You might have read that the Hartford Courant cleared him of all charges. But if you read the paper more closely, you find that the FBI isn't taking the paper's word on it. Would I like Chris Donovan? Sure. But would I hire him as my Congressman? Um... no.
The other person is Dan Roberti. At first I had my hopes high. But he has been nothing but a huge disappointment. He has zero platform, every ad just a cheap slam of the other two. Unless you really enjoy the term "airhead", please don't vote for him.
The last person is
Elizabeth Esty.
She's not full of dazzle. She's walked the streets. She's talked to people. And, as a result, she's built a thoughtful campaign. My vote would be for her.
* * *
The next person I'd pick would the Democratic side for Senate. My pick would be Chris Murphy. It's funny... the guv spoke first, and yeah, it was a rousing speech for those assembled, but for me, eh, it was a speech. But then state senator Beth Bye spoke. For those unfamiliar with her, I really can't explain it to you. I trust Beth Bye and her endorsement. Enough said.